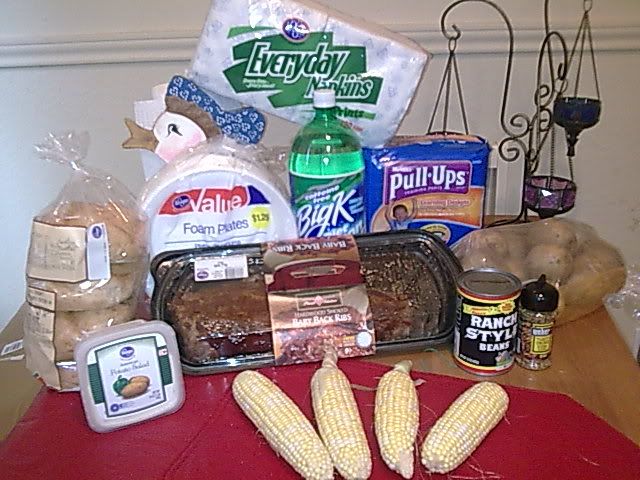 I'll be honest - the only reason I did this trip was because I didn't feel like cooking tonight and I knew that the ribs were on a "meal deal" type deal. Basically, buy the ribs, get the potato salad, beans, plates, pop & napkins free. Only got the potatoes because they were on the clearance produce for $.99 and the kaiser rolls were on the clearance bakery for $1.29. I like something like the kaiser rolls for breakfast. I pop one into the toaster oven, slather with butter, and away we go! Not the most healthy breakfast, but still yummy and enough to get me through to lunch (breakfast at 7am, lunch at 1pm basically). Oh, and these are whole wheat rolls too. Num num num num num.
Ribs $12.99
Napkins
$0.99
FREE
Pullups on sale for $10.99
Plates
$1.29
FREE
Rolls $1.29
Corn $.80
Potatoes $0.99
Pop
$0.79
FREE
Potato Salad
$1.24
FREE
Beans
$0.60
FREE
Steak Seasonings $1.00 on sale
Saved an additional $2.00 off the Pullups due to the
Shortcuts
e-coupon and another $3.00 from a coupon someone left in the store. I had a $2.00 one, but the one someone left was better, so I used that one. Was supposed to save another $1.00 from the shortcuts e-coupon on the ribs, but I didn't see that taken off and having a kid that wouldn't stay in his cart didn't help. Oh well. Wasted $1.00 on worse items. Had a $0.50 off coupon for the steak seasoning. There's another coupon on my receipt for $.50 but I can't remember what it was for.
Soooo......
Price before coupons.... $36.27
After coupons.................. $20.37
According to my receipt, it's a 44% savings. Sounds good to me. I also only need another 40 fuel saver points to save $.10 a gallon on 1 gas fill up. That's good seeing that in the matter of 4 weeks, gas has gone up from about $1.80 a gallon to $2.25 a gallon.
I just love seeing the price whittle down. It's such a good feeling!