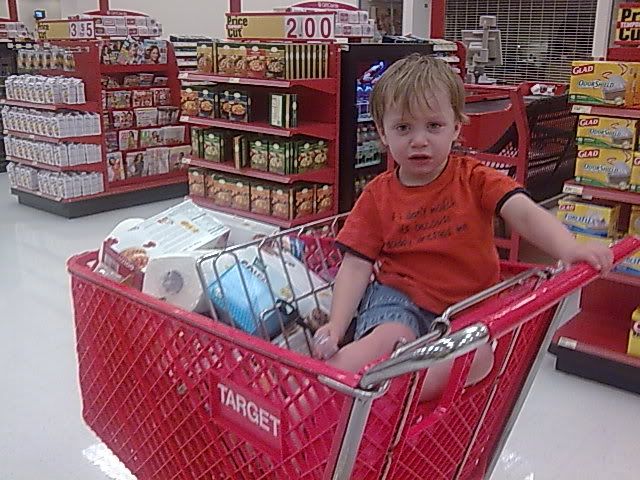 As you can see, my son was none too happy with taking this trip. I had to take him away from his favorite past time - the playground - to do this trip. I only cut his playing short because it looked like it was about to rain. Poor kiddo. Didn't rain afterall.
I also had to take a picture of this cart because it's been so long since I've had such a full cart. Mostly, I've had to buy the bare minimum for about the last 3 years. I thought I did OK with coupons and discounts back then, but those trips were NOTHING compared to this one.
Ready?????
Cost before coupons (& WIC because I did get some milk) = 167.92
Paid out of pocket after coupons & WIC = 56.77
Holy mostacholi! I NEVER thought I could do something like this. I did have to spend all morning getting all my coupons together, but it was definitely worth it! I'm hoping next time it won't take me so long to get the matchups done.
Here's everything laid out: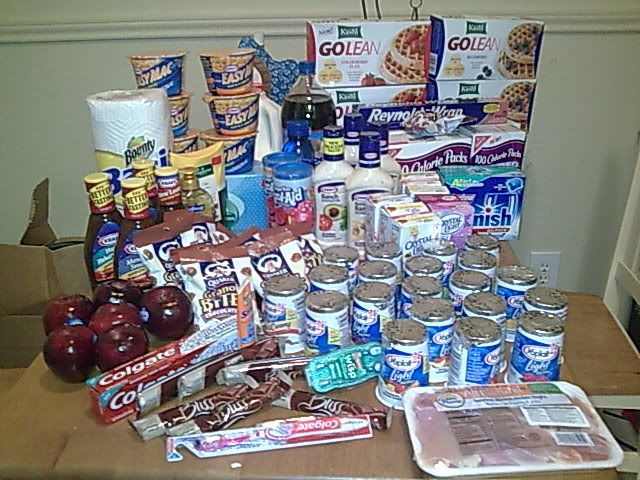 There was only 3 things on this table that I didn't have some sort of coupon for - the pop, tissue, and paper towels. Out of those items, only the paper towels weren't on some sort of sale or clearance. My freezer is totally FULL from the meat from the last Kroger trip and these waffles, but man.. it's a nice feeling to know I didn't even spend $100 on both trips combined!
Not wanting to go into detail about how much the original price and savings were because it's 10pm here and I'm tired, but here's what I bought:
Electrasol
Starbucks Chocolate
5 Bliss candy bars (FREE after coupon)
4 different 100 calorie packs
10 Quaker bites (FREE after coupon)
8 Crystal Light
Joint Juice (FREE after coupon)
4 Kraft BBQ sauces
4 Kraft dressings
6 Kraft EZ Macs
2 pounds of apples (total of .07 for both pounds)
Chicken
6 Kashi waffles(would've bought only 2, but they're on sale this week making them even lower than the regular cost)
Pepsi 2-liter
Sprite Zero (not pictured, but needed the 20 ounce to help appease the boy)
Whole Milk (on WIC)
Banana boat sunscreen (FREE after coupon)
Softsoap
Colgate Wisp
Colgate Max toothpaste
Colgate Max toothbrush
Reynolds Wrap foil
Bounty Basic
Puffs Plus
2 Kool Aid
20 Yoplait yogurts
Wow. That's quite a haul! I'm sure some of the experienced couponers could've done better than I did, but I feel it's not bad at all for my 2nd extreme couponing shopping trip ever!
66% savings - if I've calculated right.
One more picture of the full cart, for good measure. LOL