All right, I know I haven't been here in a while. That's life, right? Sometimes you're the windshield and sometimes you're the bug, but bugs like me learn to scrape themselves off the windshield and keep flying. Long story short, I'm a stay-at-home mom now and that means we're down to 1 income and I've become a home economist. Don't get me wrong - I've slipped in the past few months, but now I'm back and working my butt off to save my family money again. To celebrate, I thought I'd post my Kroger trip for today. Kroger was running the Mega Event where when you buy 10 items you get an automatic $5 off your grocery order. This made a lot of my stuff free to close to free after coupons. I didn't take a picture in my home. I'm too tired for that... but I did take a picture of what a full cart looks like in the parking lot.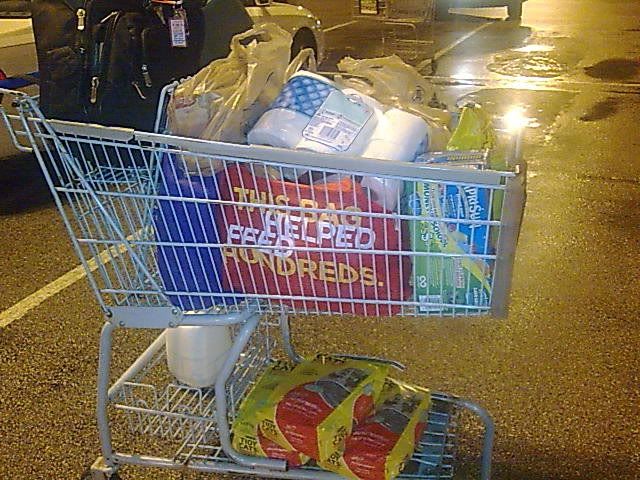 Since it's 10pm here and I'm dealing with a 3-year-old that refuses to go to bed or sit still watching
Monsters, Inc.
, I'll be brief.
In my haste, I realize I was 3 items short of getting another $5 off. Man, I hate it when that happens especially since I used tick marks on my shopping list to be sure I had enough for the event. I would've gotten 3 more sodas for $.79 each. I still would've saved about $2.50 more. :(
Before I go on, notice the front seat of the cart. In it I have my backpack and my new coupon binder. Filled as it is now, I can't even zip it up! It takes forever to organize, but I can find my coupons super easily, which is just the opposite of where I was before. At least with it all being easier to find, it'll be much easier when I come across a good clearance deal!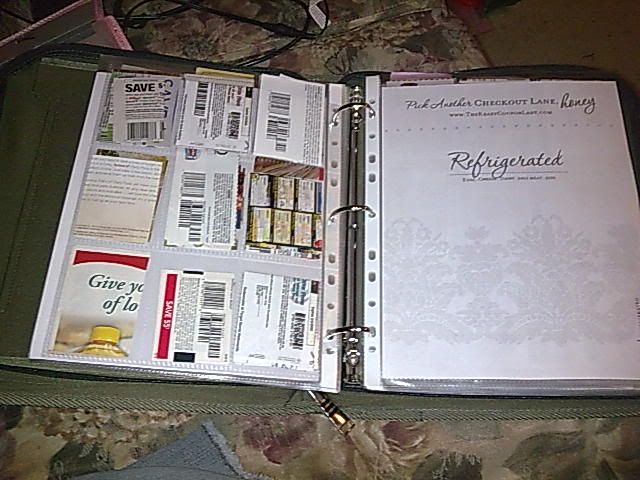 This is how my binder looked as of mid January. I could still close it then. I certainly can't now! I used the dividers I downloaded from
The Krazy Coupon Lady
. The coupons are stored in baseball card holders. I needed 3 packages for mine and now I need one more! I definitely need a bigger binder.
On to my shopping trip!!!
Mega Event Items (prices reflect cost each after mega event deducted):
2 Coffee Mate Coffee Creamers, $2.50 each, used $1 off when you buy 2 coupon, paid $4.00 for 2
3 Ro-Tel Tomatoes, $0.40 each, used buy 2 get 1 free coupon which took $.090 off, paid $0.40 for 3
3 Pepperidge Farm Goldfish crackers, $.88 each, used 3-$0.75 off coupons, paid $0.39 for 3
2 Capri Suns, $1.49 each, used $1.00 off when you buy 2 coupon, paid $2.98 for 2
3 Craft Cheese shreds or chunks, $1.49 each, used 2-$1.00 off when you buy 2 coupons, paid $??? for 4 (see below in the non mega sale list)
4 So Be Life Waters $.50 each, used 2 buy-1-get-1-free coupons which took off $1.79 each, got $1.50 toward the rest of my purchase (a money maker!)
2 Kraft Velveeta Shells and Cheese Dinners, $1.29 each, used $1.00 off when you buy 2 coupons, paid $1.58 for 3
11 I Can't Believe It's Not Butter tubs at $0.99 each, used 11 $1.00 off coupons, $0 out of pocket!
2 Green Giant Valley Fresh Steamers $1.49 each, used 2 $0.40 off coupons that doubled to $0.80 off, paid $2.18 for 2
4 Tidy Cats Cat Litter 10 pound bags, $1.49 each, used 4 $1.00 off coupons and 1 $1 off cellfire coupon, paid $0.96 for 40 pounds of cat litter.
1 Quilted Northern 12 count bath tissue $5.99, used $1 off coupon, paid $4.99
Not on mega sale:
1 Diet Orange Crush 2 Liter (I thought this was a mega sale item) $1.29
1 Kraft cheese $4.49 (again, thought this was a mega sale item or else I would've gotten something different)
1 Cat Litter Liners $1.89
1 bag of sliced portabella mushrooms $2.39
1 bag discounted navel oranges $1.80
2 Kroger Frozen Chicken Cordon Bleu $2.00
1 Beef Steak (reduced for quick sale) $4.99
Purchased with WIC and not in my "before" total:
1 Gallon Milk
1 Dozen Eggs
1 Bunch Bananas
Well, that's my trip back. Made a couple of mistakes, but not too bad nonetheless. I'm happy! I only have $80 total for groceries and fun for the week, so I'm doing well stretching it the best I can so far. Had I not used the coupons and sales I would've been over already.
$103.94 before coupons and sales
Manufacturer coupon savings $40.48
Bonus coupon savings $1.50
Kroger plus savings $37.11
Total coupons $79.09