This is my last post for today, I promise!!!! I'm finally caught up after this one.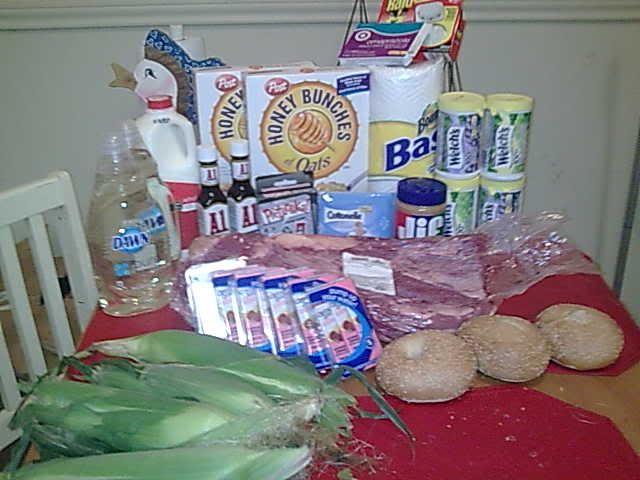 I really wish I had a deep freeze. I'd totally buy more brisket at $0.99 a pound and cut it into steak size pieces to freeze. I'd do the same thing with the corn since it's $0.10 an ear. Alas, I have a tinier freezer than most apartment freezers are (seriously - it's smaller than any one I've ever had before), so I can't. Anyone wanna donate a working deep freeze? LOL
I was sorta confused on what the checkout girl did. She took the WIC off first then said I had to pay the full price for everything and she'd give me cash back as a refund for my coupons. I guess it's because they did the WIC tender before the coupons. I have to remember that next time for my Target purchase. At least I have a little cash in my pocket that I won't have to stop at the ATM to get!
Dawn dishwashing soap 2 at $2.49 each = $4.98, had a $1.50 off manufacturer coupon and a $0.50 off Target coupon for each, so paid $0.49 each ($0.98 total)
Raid $2.54, had a $2.00 off coupon, so paid $.54
Crystal Light packets - 6 for $0.99 each, had either $1 off coupons or buy 2 get $2 off coupons, so FREE
A1 steak sauce 2 at $2.09 each, had $2.00 off coupons so paid $0.09 each, or $0.18 total
Sweet corn - 4 ears at $0.10 each, normally would've been $2.00 instead of $0.40
Jiffy peanut butter $2.09 purchased with WIC
Einstein bagles $2.97 (my diet didn't last long - thanks STRESS!)
Brisket $9.53
Honey Bunches of Oats Vanilla Clusters $5.98 purchased with WIC
Welches juice - 4 at 6.28 purchased with WIC
Milk 2.04 purchased with WIC
Bounty basic $0.99, had a $0.50 off Target coupon and a $0.25 off manufacturer coupon so paid $0.24
Cottonelle travel wipes $0.99, had a $1.00 off Cottonelle Target coupon
Omeprazole $7.49 (again, thanks STRESS)
Pictureka card game $6.64, had a $5.00 off coupon, so paid $1.64 for a whole new game!

Total $63.64
WIC paid $16.39
Coupons totaling $21.00
Paid out of pocket 48.47 and got $21.00 back from the cashier totaling 26.25 actually paid!
$42.64 saved = 67% savings!