I'm going to be completely blunt here. This week, we're totally broke. Mr. Newbie's work comp didn't kick in and won't until next week (cross fingers), so we had to spend our emergency fund on rent. Our emergency fund wasn't even at $100 yet (we're striving for $1,000). Fortunately we did have this so making rent isn't impossible, however grocery shopping will be. I still have a full tank in my car and Mr. Newbie has about 1/4 tank. I have food stockpiled. I'm not worried - just annoyed.
That being said, I couldn't pass up the Purex deal at Walgreens this week. For the entire month of March they're on sale for buy-1-get-1-free. A couple of weeks ago there was a buy-1-get-1-free coupon in the paper. What does that mean? FREE LAUNDRY SOAP!!!!! Of course, Walgreens was out of some other money maker items, but they weren't going to be useful for me except for them being money makers. I got what I really wanted! :) They made me do this in 2 transactions, which I was fine with. The cashier tried to convince me to only buy 4. There were still some left on the shelf and my headaches haven't gone away (I went to the ER a week ago today due to a sinus pressure headache like I've never felt before in my life), so I wasn't really in the mood to think about when I would've been able to come back before my Q's expired to get the other 2. Sorry. We were totally out of pop and the Dr. Pepper 2-liters were on sale for $1.00 each, so I picked up 1 for each transaction.
If you're curious, no I wouldn't have done this unless I could've gotten them all for free. I have $15 to my name until Tuesday. Mr. Newbie has less. Right now, Pre-K Newbie probably has more than the rest of us combined. LOL.
Here's another reason I wouldn't have done this unless it was free: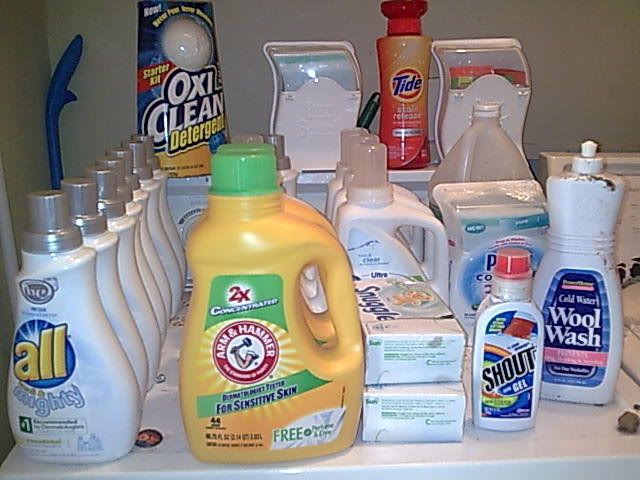 This is my current laundry stockpile. It's the only thing I have that's stockpiled well. If it wasn't free, considering my money situation for this week, I definitely wouldn't have needed it. That's the beauty of having a stockpile. Should something like this happen, you're not in a panic. You know what you got, where you got it, and that you have enough to use. I barely paid anything for what you see here.
The breakdown:
I'm trying to do this from memory:
8 All Small & Mighty - $0.50 each
2 Arm & Hammer - probably paid $1 or $2 each and I bought 4 at once
6 Purex - FREE
3 Purex 3-in-1 - Guessing about $2 or $2.50 each (I mostly bought these for Dale since he was an over the road trucker and these would travel easily
2 Snuggle Sheets - FREE
1 Shout Gel - can't remember. Probably paid full price because I've had it for a while
1 Wool Wash from the Dollar Store $1
1 Tide Stain Release - probably about $2 or $2.50
1 Oxy Clean starter kit - FREE
Various samples/trial sizes in the top right Purex sheets box - FREE (there's 8 packs in there now)
1 bottle of vinegar $2.50 for the large generic
(not pictured because I don't use it often so I store it elsewhere) - 1 bottle of generic bleach - probably about $2.50
I think that comes to under $30 for all the stuff above. Imagine what it would've cost without sales and coupons. I don't even want to think about it!!!!!!