For some reason I thought I wasn't going to do well. I was wrong! Just takes a little planning! :D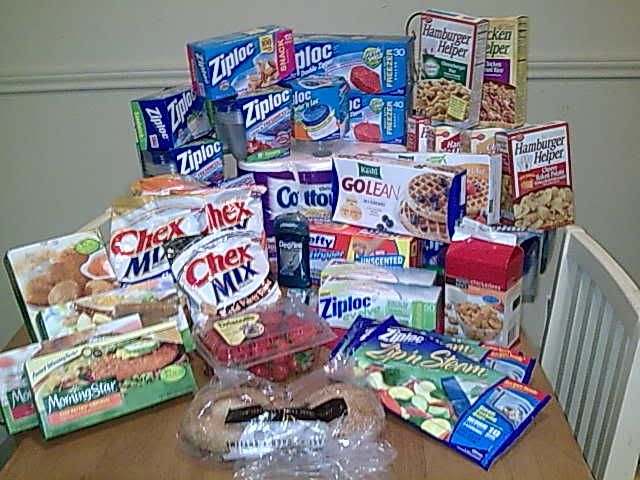 Chex Mix - 6 bags at $2.24 each, had $0.50 off manufacturer coupons for each and $1.00 off Target coupons for each making them $0.74 each.
Market Pantry "goldfish" type crackers - to appease the boy $1.32
"Helper" meals - bought 6. They were supposed to be on sale for $1.25 each, but most rang up at $1.52 each. Used 2- buy 3 get $0.75 off manufacturer coupons and 3- buy 2 get $1.00 off Target coupons.
Einstein bagels - 2 for $1.98. I have a weakness for sesame seeded bagels and since I've decided that on Monday I'm going back to my low-carb diet, I wanted one last Hurrah! with my bagels.
Strawberries $2.99, had a $1.00 off Target coupon so paid $1.99 for the pound.
Kashi waffles 2-boxes on sale for $1.77 each, had a $1.50 off coupon, paid $0.27 each.
Morningstar meatless "meats" - bought 4 at $3.39 each, had $2.00 off each manufacturer coupons & $1.00 when you buy 2 Target coupons making them $0.89 each.
Degree deodorant $2.29. Had a $1.50 off Target coupon and a $1.00 off manufacturer coupon making them pay me $0.21 to take it off their hands (love it when that works out)
Tweezers $2.89
Ziploc containers & bags. I got 15 at various prices, had lots of manufacturer and Target coupons for them plus some of them were on sale. Would've paid $36.47 before all sales and coupons (more than I paid out of pocket for all this stuff!), the sales made them $35.62, the coupons made them all $17.47
Hefty trash bags $5.89, had a $0.55 manufacturer coupon and a $1.00 Target coupon making it $4.34
Cottonnelle TP $6.49, manufacturer coupon for $1.00 off and Target coupon for $1.00 off making it $4.49.
Total before coupons & discounts - $116.50
Total paid out of pocket - $34.78
Saved $81.72
70% savings!
Woo hoo!!!!!!!