Recently, I had been bragging to my wonderful Nana Coupon (HI DENISE!!!!!) about how well I've scored at grocery stores. She was intrigued. I would be too, honestly. Money is a tight commodity for all of us right now. I gave her all my resources and told her what has helped me so far. She's a great student (and a great mom for having raised such a wonderful son - no I'm not buttering her up for anything ;). She bragged on her experiences to me recently. I'm so proud of my Padwan!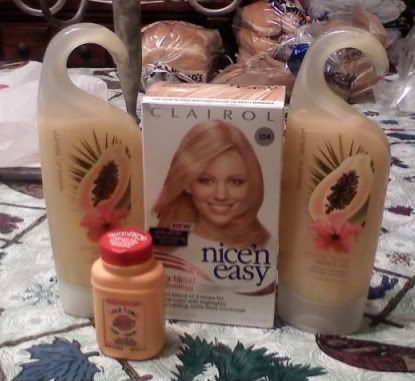 I thought I had written down what she saved on these items, but I guess I didn't. :( I remember this was from CVS, she had a $4 off coupon for the haircolor, the powder was $0.99, and the body wash was on the 90% off rack. I may just have to take a shower at her place to try it out ;) Well, yeah we are close like that LOL

A few days later she sent me this:


Here's my haul from Target. Total before coupons $93.72, after coupons $62.53 for a total savings of $24.43

How awesome is that! I mean, look at all that stuff right there. Believe me, their table is huge and this fills about half of it. Way to go Mom!
She did the same thing I did... she read the blogs, printed the coupons she needed while others did the price matching and searching, and bought herself a Sunday paper to make sure she got at least 1 copy of the most recent manufacturer coupons. It really doesn't take a lot to do this and you save so much that it's so worth it!