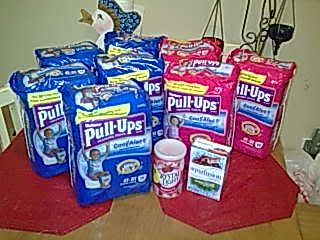 I'm so extremely grateful I have info from other peoples' blogs to keep me up to date. I might have missed this GREAT deal on Pull-Ups. They're so expensive to begin with. A few mentioned that they were on clearance at Walgreens. I stopped at about 4 so I could get so many. The last 2 were the only ones that had any left. At the next-to-last one all I could get was 3 packs. They were $3.19 a pack and I had $2.00 off coupons and a $2.00 register reward that had to be used by that day anyway. I had too much overage (somehow) so I also got some chocolates (not pictured) $0.75. The second trip is the one where I did so great! This picture's not so accurate because it happened last Sunday and I wasn't at home. Here's the details.
9 packs of Huggies Cool Alert Pull-Ups on clearance for $3.19 each. $2.00 off coupon for all of them.
Crystal lite on clearance for $1.09 each. Bought 2 because I had a $1 off coupon when you buy 2 and another coupon for the Crystal Lite Pomegranate tea for free when you buy 2 Crystal Lites. So, for 3 packages of Crystal lites, I paid $1.18
Dr. Pepper freezer pops for $2.00 (my wonderful in-laws LOVE Dr. Pepper and I wanted to try them so I figured what they hey)
Pretzel & Cheese pack $1.00 (kept my son and my neice quiet for a little while so it was worth it).
Total paid OOP for all this stuff????
$13.70
I
only have my receipt from the second trip, so I can't figure out the exact savings... but from the big receipt I got 71.59 in savings with coupons and discounts. 84% is the estimated savings!
Woo hoo! (and I got the girley pull ups because boys poo just as well in them ;) )
Found the other receipt. It was $118.33 before coupons & discounts, paid out of pocket $13.70 = 88% savings!